Mobile Auto Glass Service Areas Include
Antioch, Bethel Island, Brentwood, Byron, Discovery Bay, Knightsen, Livermore, Pleasanton, Mountain House, Oakley, Pittsburg, Tracy, Stockton

Mike's Auto Glass
3010 Camino Diablo "Since 1988" Mon-Fri 8-5. Weekends and eve. by appt.
Byron, California 94514

New location
Rose Glass
230 Chestnut St.
Brentwood, Ca 94513

925-634-7616
Located just 6 Miles from Brentwood and 13 miles from Antioch.

Direct Insurance Billing- We handle the paper work for your auto glass claim. When calling your Insurance Company remember that you always have the right to choose Any Auto Glass Company.
Fleet Accounts- We will stock the glass parts you need.

Trucking Accounts- We stock many truck glass parts including common windshields.

Best -Windshield Repair- Tip-- Most Insurance Companies waive your deductable for windshield repairs- that means that it wont cost you anything. We can repair rock chip damage to your glass up to the size of a quarter. The damaged area will look 75-90% better and the repair will keep the cracks from spreading. We charge $50 for a single in shop repair and $10 for each additional repair that is c.o.d. Tip- When you get a rock chip in your windshield glass, it is a good idea to have it repaired as soon as possible to keep it from spreading and to prevent the dirt and moisture from getting into the cracks. If getting your windshield repaired right away is not an option, then putting a piece of scotch tape over the rock chip will keep the damaged area from being contaminated.

Best Power Window Repair- We can repair most power windows

Best Dynamic and Static Adas calibrations for forward facing cameras on domestic and import vehicles. A car that has lane departure warning system has a camera that when removed from your windshield , need to be re- calibrated to function as intended. We re calibrate every car that has a camera.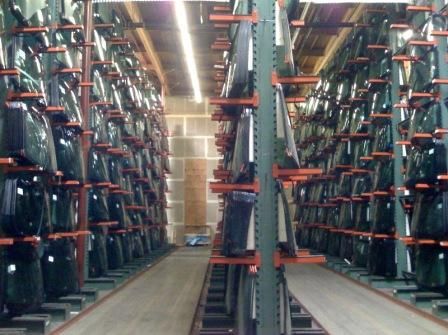 Large Inventory of Auto Glass

If we don't have the glass, we can usually get the auto glass that you need the same day, whether it's a door glass or a windshield glass , we do it all.
Some of the brands of glass that we sell are PPG, Guardian, LOF, Sigla, Pilkington, FYG, Sekurit, and many more including oem glass.
Works with or without Insurance Companies!
Saturday, August 20, 2005
Mike's Auto Glass can work on insurance claims with any insurance company or will give you a replacement windshield at a reasonable price. They can come to you mobilely, or you can take the car to their shop and have it back in just a few hours. Really great customer service. They also worked on some commercial vehicles at my previous employer and replaced a backhoe windshield and some very small custom custom glass on some of our trucks. When we asked them to replace a mirror, they let us know that was far cheaper to replace the mirror with a brand new mirror assembly than to get a custom cut!
Did a great job!
- Aug 26, 2009
They did a great job at a great price, very professional!
Mike's Auto Glass
- Oct 16, 2008
Mike was able to help us when we couldn't get anyone else to replace an RV window. Most places wanted us to bring the RV in, let them measure, then special order the glass and bring the RV back in two to three weeks. ...